October/November 2015 – Midnight's Edge Parts 1 and 2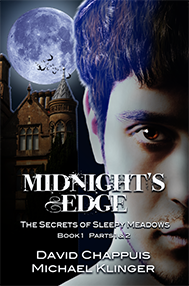 Here's a glimpse into the story of ME:
A young woman is driven to suicide by a evil spirit hellbent on revenge…
The name Midnight's Edge comes from the time at night where the veil between the living and the dead disappears, and for a brief moment in time, when the dead can return to the mortal world and live again. It is the story of a vile, evil man named Jeremy Wickcliff, whose wife, Lucy, arranged his death years ago to save the town of his wrath of destruction.
In present time, he's been plotting from the spirit realm, a place of purgatory, to return to the mortal realm to seek revenge on those who wronged him and reclaim the life ripped away from him.
ME is a supernatural novel to be released on Kindle, Nook, and other most popular digital formats, and paperback in two parts this September and October, 2015. It has something for every audience: secrets, lies, and intrigue coupled with spirits, parallel realms, and more for fans of the supernatural.
—–
Coming in 2016 – Titanic: The Unsinkable Vampire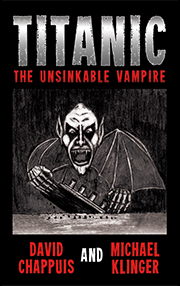 Here's a glimpse into the story of The Unsinkable Vampire:
Tom Fischer, the blog writer and owner of www.realtitanicstories.com, had no idea what was in store for him when he arrived in Halifax, Nova Scotia – the resting place of
over 100 victims of the Titanic – to interview a mysterious woman named Clarice Smythe.
She claimed to have first-hand knowledge of a story that had never been told. A story that went back to 1912 and involved a murder, and a young girl who had been bitten by a vampire. A vampire brought onto the Titanic against its will and that seeked revenge. Revenge against its captor, his family, and all those on board the Titanic who claimed it was unsinkable.
—–
Undetermined Date – The Mystical: Episode #1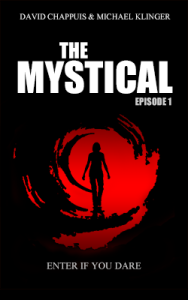 Here's a glimpse into the story of The Mystical:
The Mystical is a supernatural/suspense novel to be released on Kindle, Nook, and other popular digital formats.
A disturbing phone call on a stormy night instigates a strange series of events for a young woman who doesn't necessarily believe in the other side. But when Dina Ebert realizes that her Aunt and her Aunt's children have gone missing in a parallel realm in an old Virginia plantation home, she's forced to question her beliefs and must decide if she's willing to risk her life to get them out.
—–